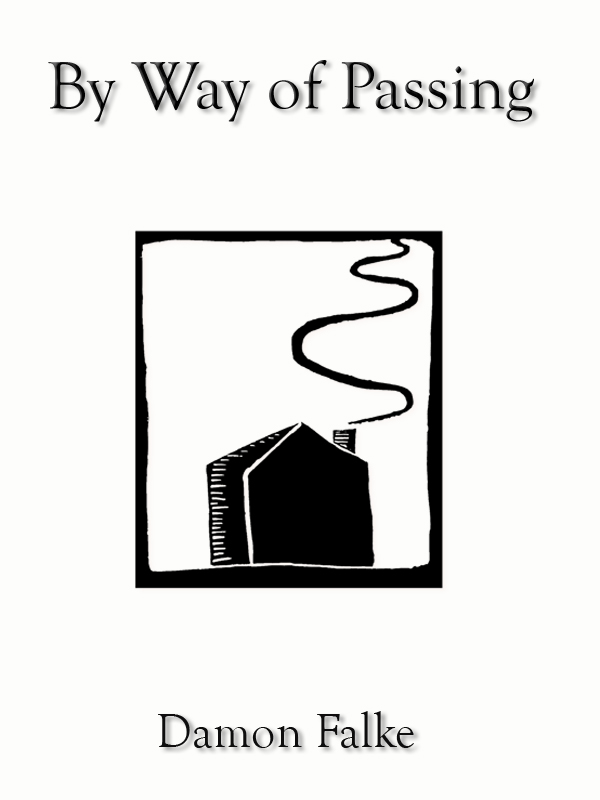 In By Way of Passing, Falke explores "memories of a land and a youth" that cannot be saved. "Nothing," as Jim Winters says, "can be saved," but the story itself aspires to save this land and this youth, and proves the worth of that aspiration. Even as Ray learns beauty, it escapes him. Even as Jim lingers over the ritual of caring for his animals and tack, they are passing. He is passing. But the inevitability of that passage only intensifies our need for a story like this, a story in which the call of land and youth and beauty cannot adequately be answered, but can resoundingly be heard.
Fiction | 73 pages | ISBN: 0980084148 | Hardback $22.95 | Kindle $2.99

2012 Artist Broadside Series
Three new broadsides will be released December 15, 2012. We are excited to work with Joshua Mehigan and Saara Raappana to create this new series of poetry|art pairings. Three poems: "The Optimist," "The Dream Job," & "Advice for Icarus from Celebrated Funambulist The Great Farini" are paired with original wood-cut prints from Rebekah Wilkins-Pepiton.
10″x10″ | Zerkall mould made paper | 0:100 | $24.95 [each] / $59.95 [set]

______________________________________________________
In Notes on Paper, D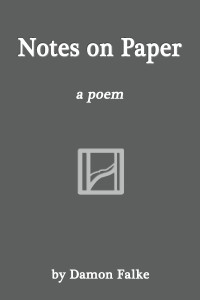 amon Falke walks us through the landscape of one man's mind, which contains both his past and an awareness of our common future. From within private memories the narrator reaches out to us with 'we' and 'you', and each spare line invokes the hope that we, like him, are worthy of return to our most longed for places. And if to return is not our fate, and really it never can be, the narrator bids us survey our own memories, taking time in the present for the winds, and the words, that move the world. A work of profound beauty with illustrations by artist Laura Mae Jackson. (2012)  Click to preview.
Listen to a reading by Damon Falke, "When October Comes".
"Damon Falke's meditative, lucid poems blend homespun familiarity with Beckett's sense of loss, longing, and fragmentation to establish a distinctively plains and desert imagism." – Dr. James Rovira, Tiffin University (Read the rest of the review)
Poetry | 54 pages | ISBN: 9780980084139 | Kindle ($2.99) In Hardback ($22.95)

______________________________________________________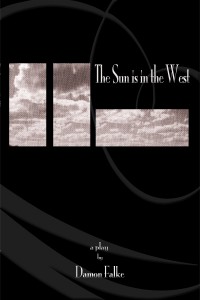 The Sun is in the West is a thought provoking play by Southern writer, Damon Falke, exploring the power of place and story in the span of each human life. Situated in a graveyard on the storm ravaged Gulf Coast of Texas, the characters grapple with their connection to the land, with family myths, and with their own histories. Falke's rich storytelling and lush poetic language mark this play as a unique offering in the contemporary American theatre. (2010)  Click to Preview.
Drama | 60 pages | ISBN: 9780980084122
Paperback ($12.95) | Amazon Kindle ($2.99)
______________________________________________________
When theology falls into the hands of the poet, something profound takes place. We can find that through the theological dis-course we come into contact with ourselves with all the difficulties and possibilities that entails. Through ideas like Creation, Fall, Salvation, Eucharist, Heaven, and Hell we come face to face with what it means to be human. This collection of essays, images, and poetry represents an attempt to put theology back into the hands of the dreamers. To give it back again to those who would speak lies in order to reveal the deepest, most transformative truths. – Peter Rollins, from his foreword to the Anthology. (2010)   Click to preview.
Collection | ISBN: 9780980084115 | $18.95
______________________________________________________
Limited edition broadsides. Poetry by Kevin Meaux & Damon Falke.
Original relief prints by Rebekah Wilkins-Pepiton. (2008)
 8.5″x17″ | Zerkall mould made paper | 0:200
______________________________________________________
A book of eerie beauty, a real gem. These are not poems and photographs but resurrections, words and images together bringing the dead back to life. "…Stems / of watercress / sprouting / from the rabbit's / ears" captures precisely the feel of these flowing alternations of poem and picture. You emerge from these pages with a new sense for the relation of memory and perception. – Krishnan Venkatesh, Tutor & Graduate Institute Director at St. John's College, Santa Fe, NM (2007)
Poetry & Photography | 89 pages | ISBN: 9780980084108 | $34.95
______________________________________________________
*Booksellers receive standard bookstore rate and free S&H. Contact us for more information.